Hello. My name is Adrienne. I live in Northern Ohio. Currently my daughter and I live with my parents as I am going through a divorce until I can get on my own two feet again.My sister also lives with us with her daughter, We are just one big happy family is a small house (ok maybe not always a happy family.)
Aubriella is my 3 year old princess (well most of the time). She is obsessed with Minnie Mouse and very opinionated with what she does and doesn't want to do. She is a strong willed wild child who keeps me on your toes. There is never a dull moment with her. At least once a week we have mother daughter time where we do something special just me and her.
I work full time at a local hair salon and part time at Dunkin Donuts. I met my wonderful boyfriend at Dunkin Donuts (yeah he is my manager shhh). We have been together since May 2013.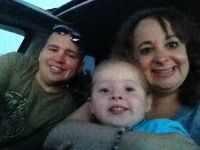 I blog about being a single mom, working mom, share recipes and crafts, as well as a scrapbook to remember our lives.
I collect frogs and shot glasses (yes I know I am weird.) I am becoming more of a sports fan each season. OSU football all the way. Chocolate is my weakness.
Years ago I was an active blogger, when I was happily married and into my pregnancy and birth of Aubriella. Here's the
link
if you are bored and want to check it out. I also use to have a
recipe blog
.